Just when we were getting used to the idea that Boity has a new man in her life, someone comes along and puts a damper on the new romance.
They are remaining mum (for now) on their relationship status, but that has not stopped someone from airing Anele's dirty laundry on social media.
Twitter user, @Chulu16, claims to know a lot about Anele, and was unimpressed that the photographer and model was trending.
He accused Anele of having three children that she does not take care financially. Well, he didn't put it so nicely.
"Wish you could trend for actually giving a f*ck about people and your blood. @Boity please tweet him holding pampers," he tweeted.
"I have a problem with fathers tweeting/instagram about holidays,parties, photo shoots,celebs but when baby mamma knocking, dololo response," he added.
He did not end there: "I have problems with fathers going on shopping sprees for iPhones bags, but dololo pampers! Pampers=R350. IPhone=R13k! R13k/350= 37 pampers!"
He also replied to some of Anele's past tweets, with lots of shade.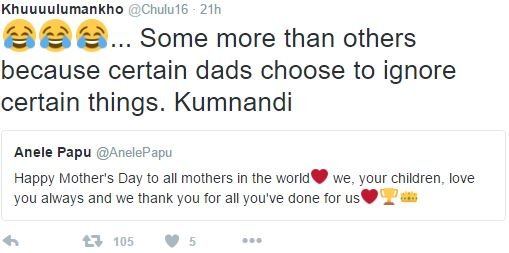 Comment with your Facebook
comments